Scalp Nourishing Conditioner
What is it: A comprehensive hair care conditioner designed to rejuvenate, moisturize, and strengthen your hair from root to tip. It dives deep into each strand, delivering essential nourishment while providing intense hydration to ward off dryness and brittleness. Beyond that, it detangles and fortifies your hair, making it more manageable and resistant to breakage. Enjoy the transformation towards healthier, stronger, and more vibrant hair with our all-in-one, game-changing conditioner, specially formulated for sensitive scalp and the perfect partner to kamedis dandruff shampoo

Hair Type: All types including seborrheic prone scalp , dandruff prone scalp , sensitive scalp, itchy scalp, damaged irritated scalp , dry scalp

Hair Type: All hair types including relaxed hair

Product minimum age: 3 years

Color, smell & texture: Off White, allergen free, floral/gentle fragrance, rich texture

Complimentary Products: Scalp lotion, daily shampoo, brush, OTC shampoo

Formula: Our CONTROL BOTANIPLEX™ technology– a multifunctional skin restoring system for flaky, itchy scalp. This system features a combination of botanicals with multiple effects that restore the skin's natural barrier.

Highlighted Ingredients: Botaniplex Balance SC (Phellodendron, Chrysanthemum), Shea butter, Safflower, Castor oil, Coconut oil, Argan oil, Aloe vera, Pro Vitamin B5, Vitamin E.

What Else You Need to Know: Formulated without harsh chemicals, steroids, parabens, dyes, tar & SLS. Safe and gentle for babies 6 months and older and powerful enough for adults. SAFE and EFFECTIVE relief.

30 Days Money Back Guarantee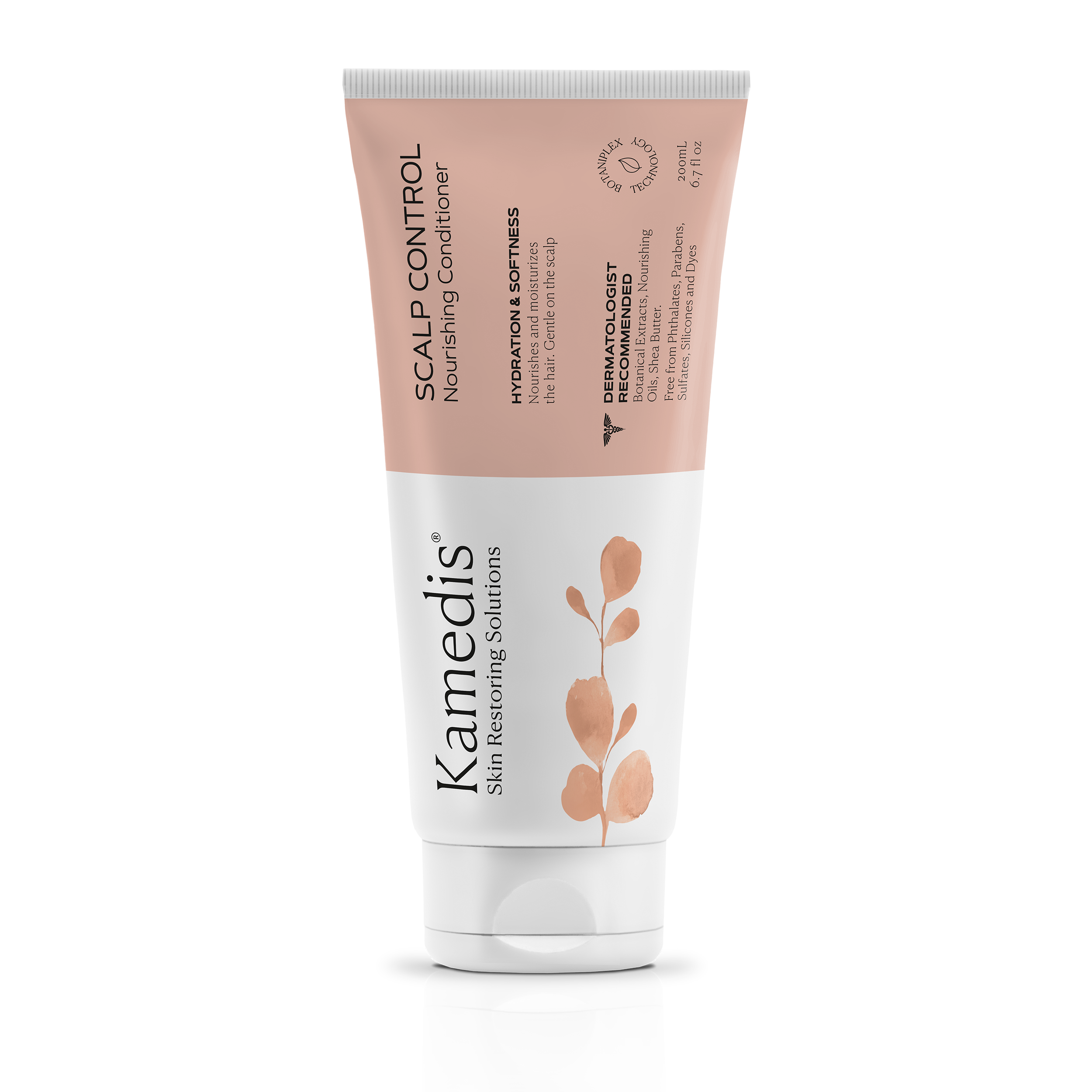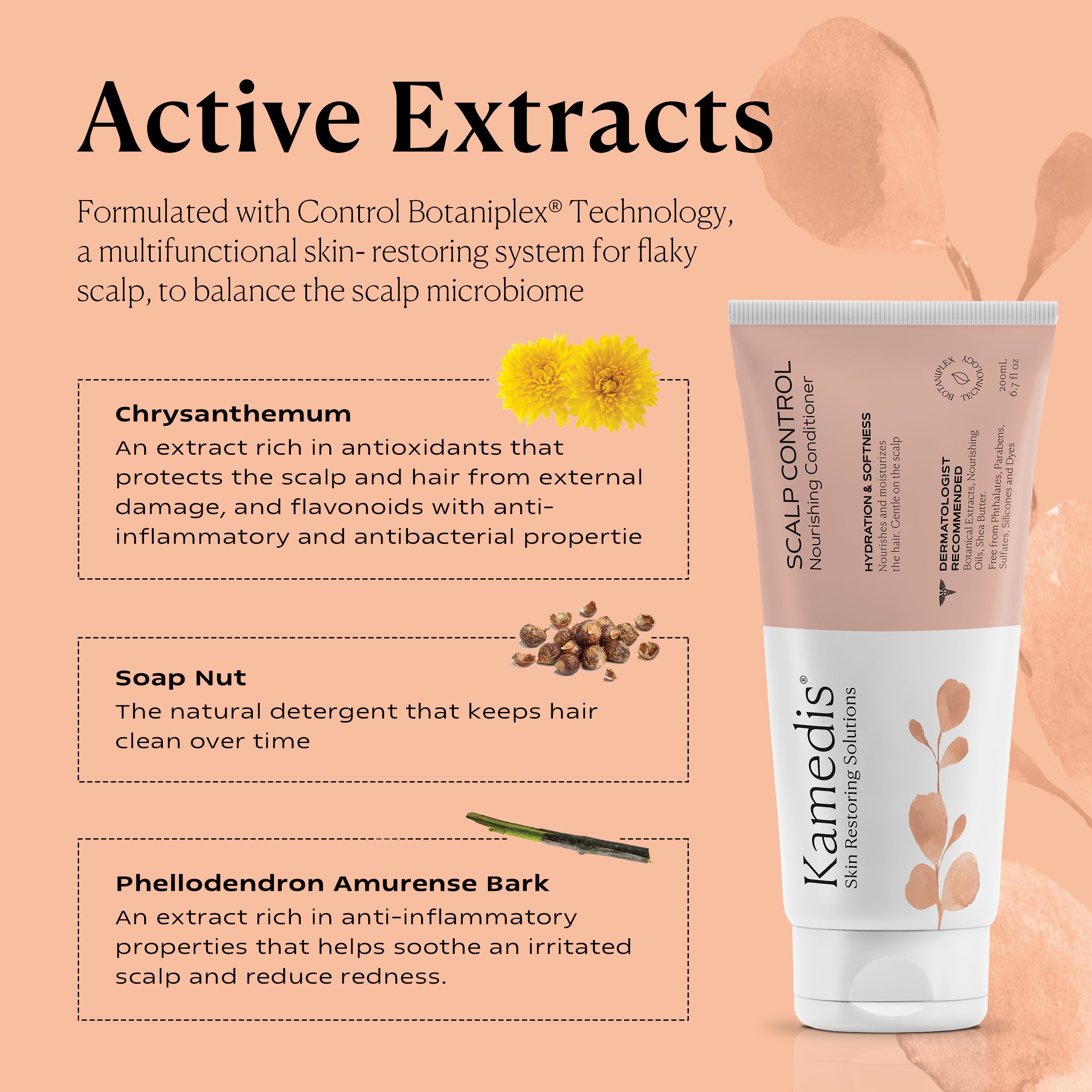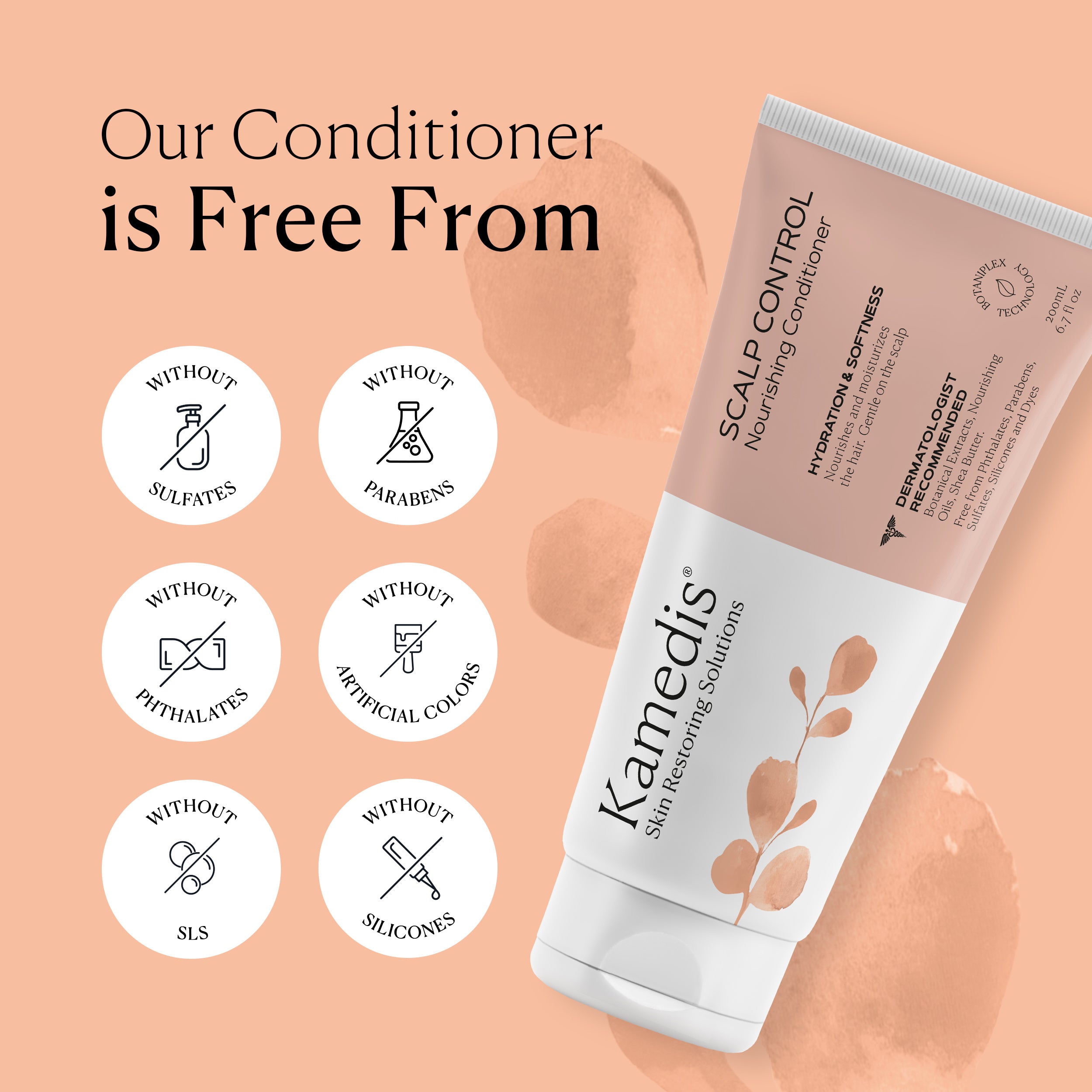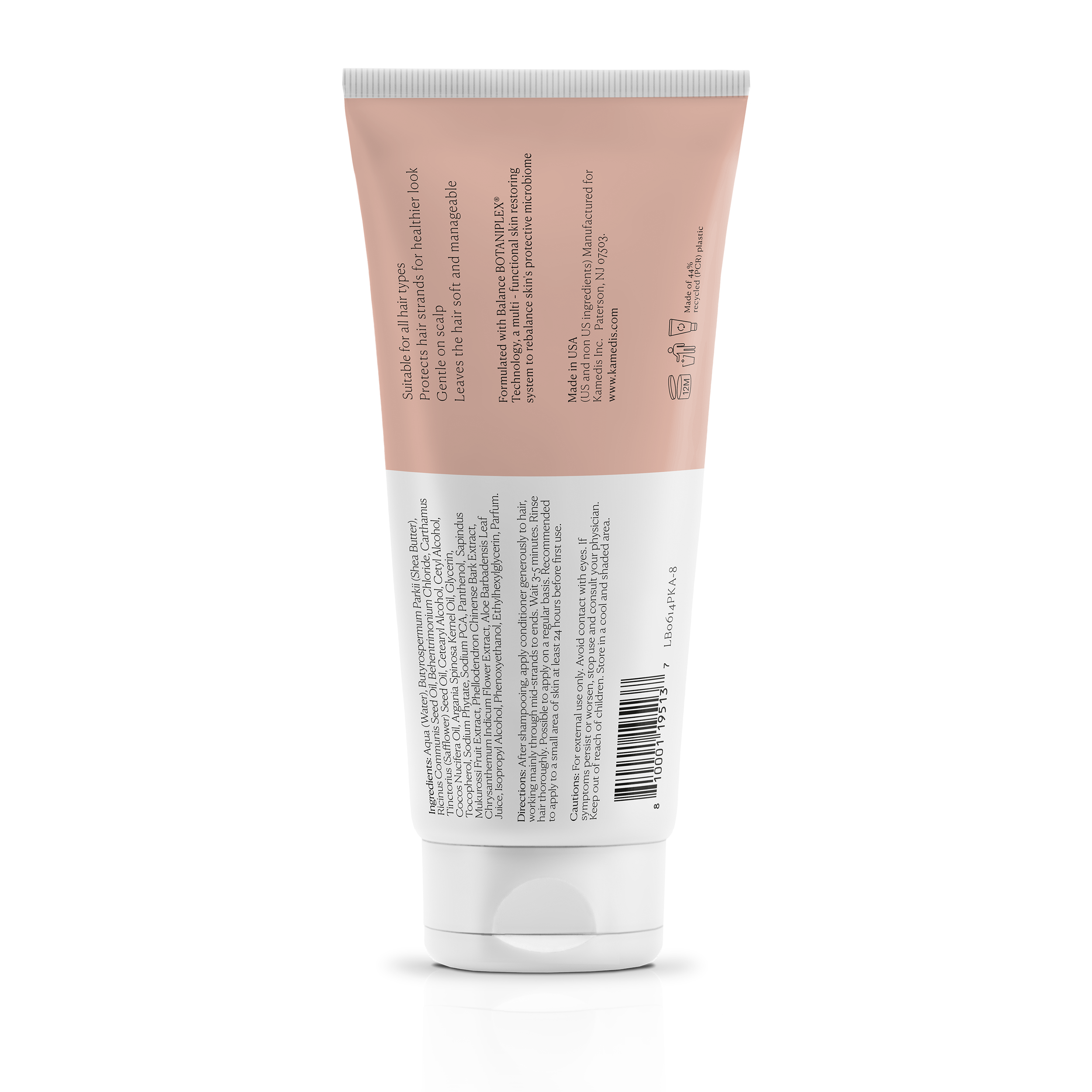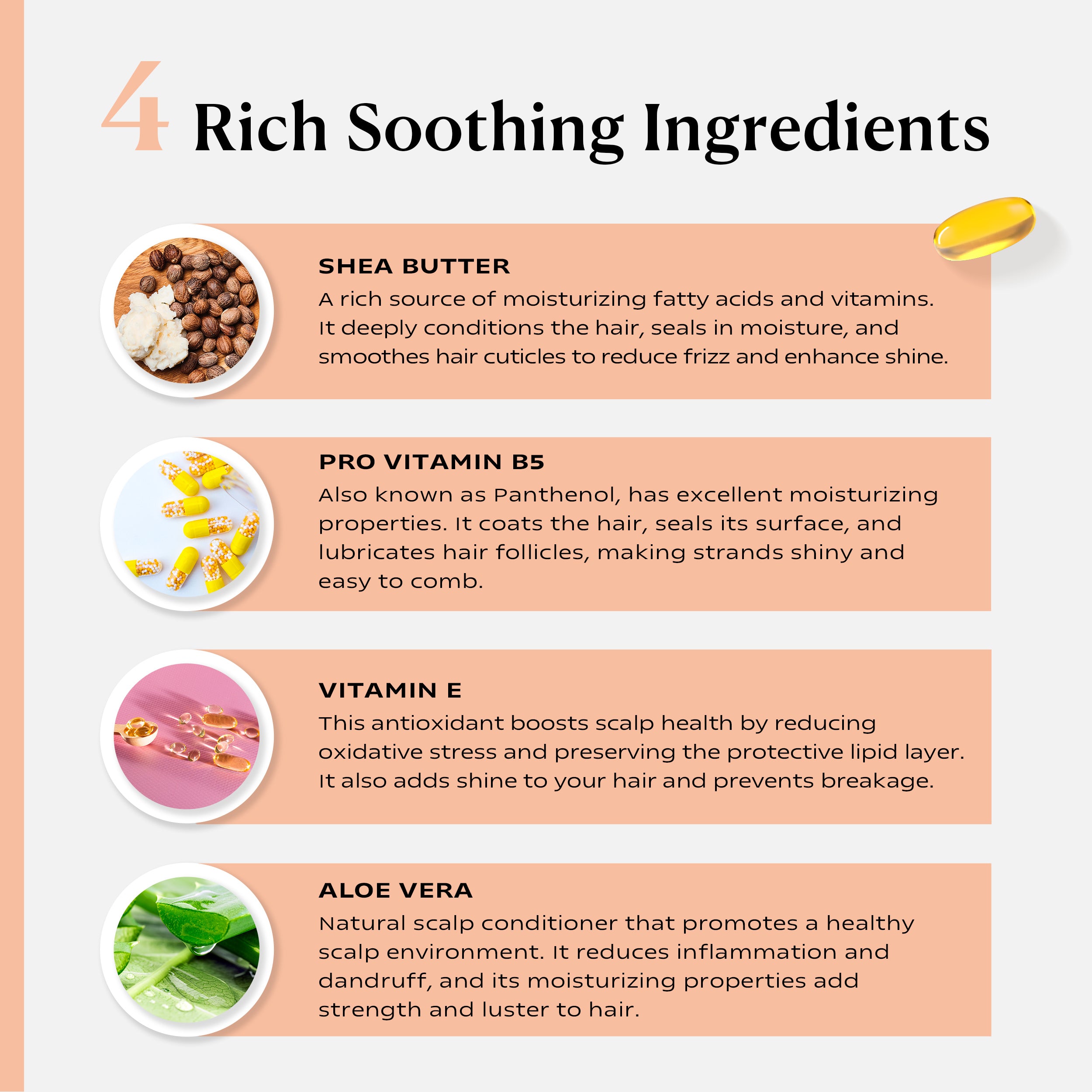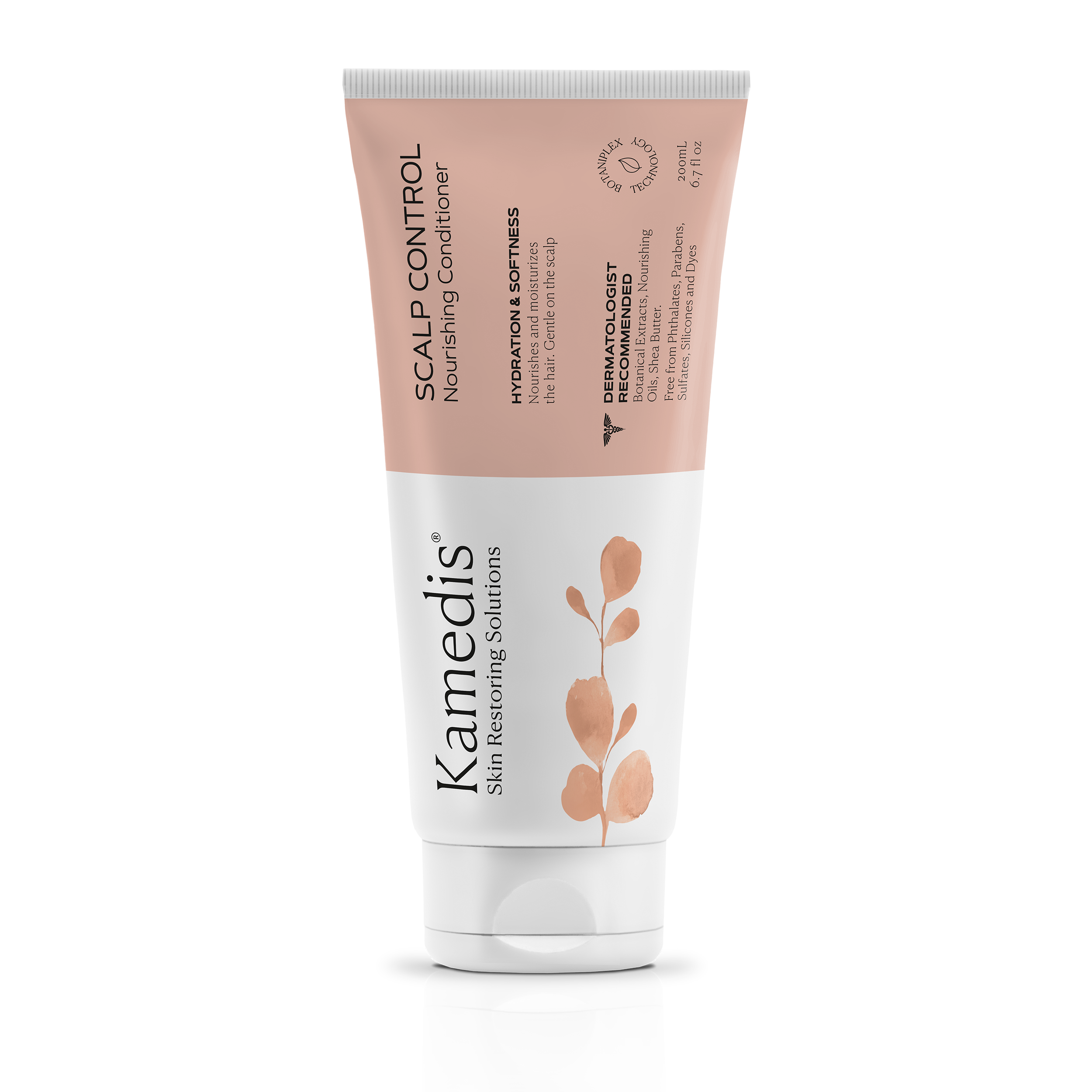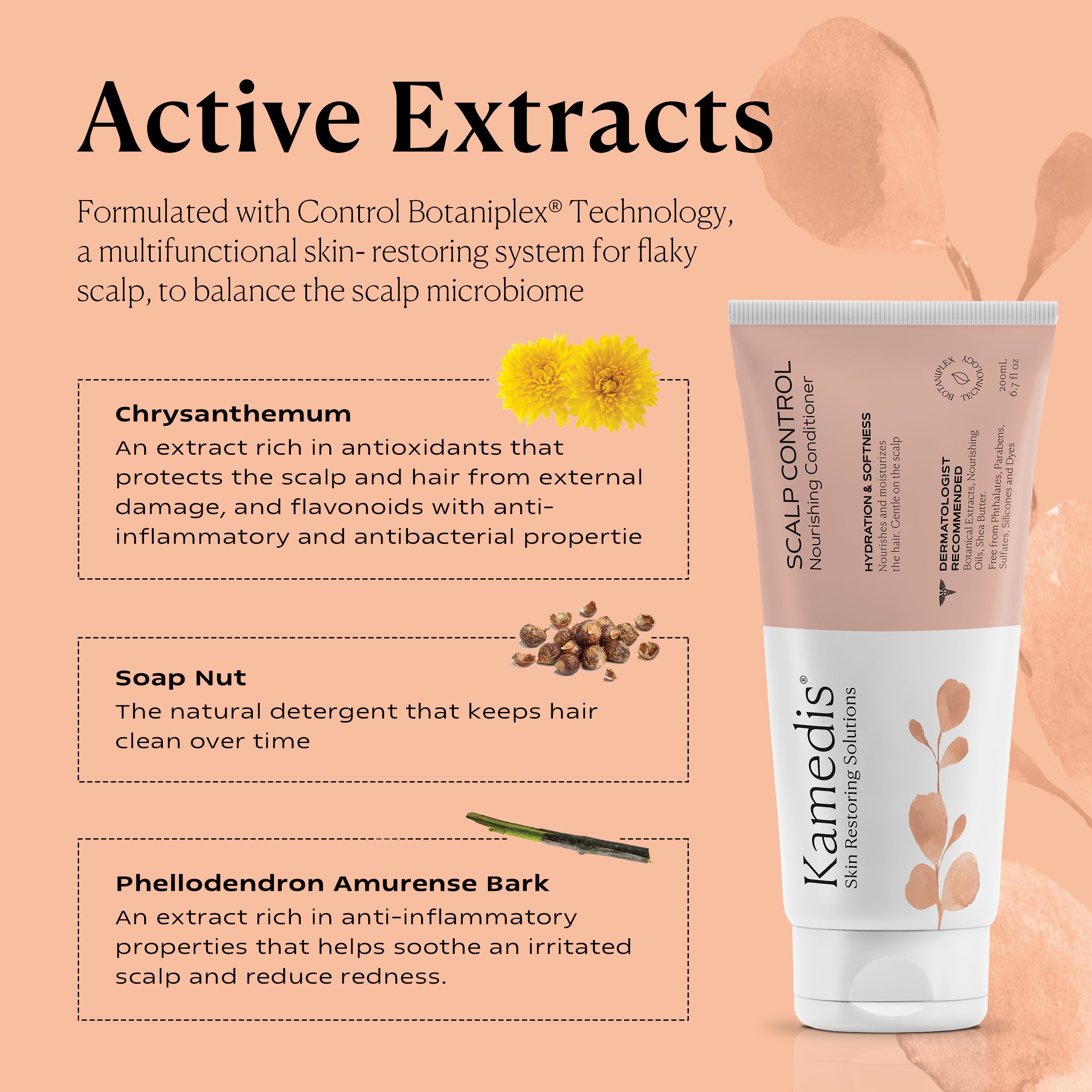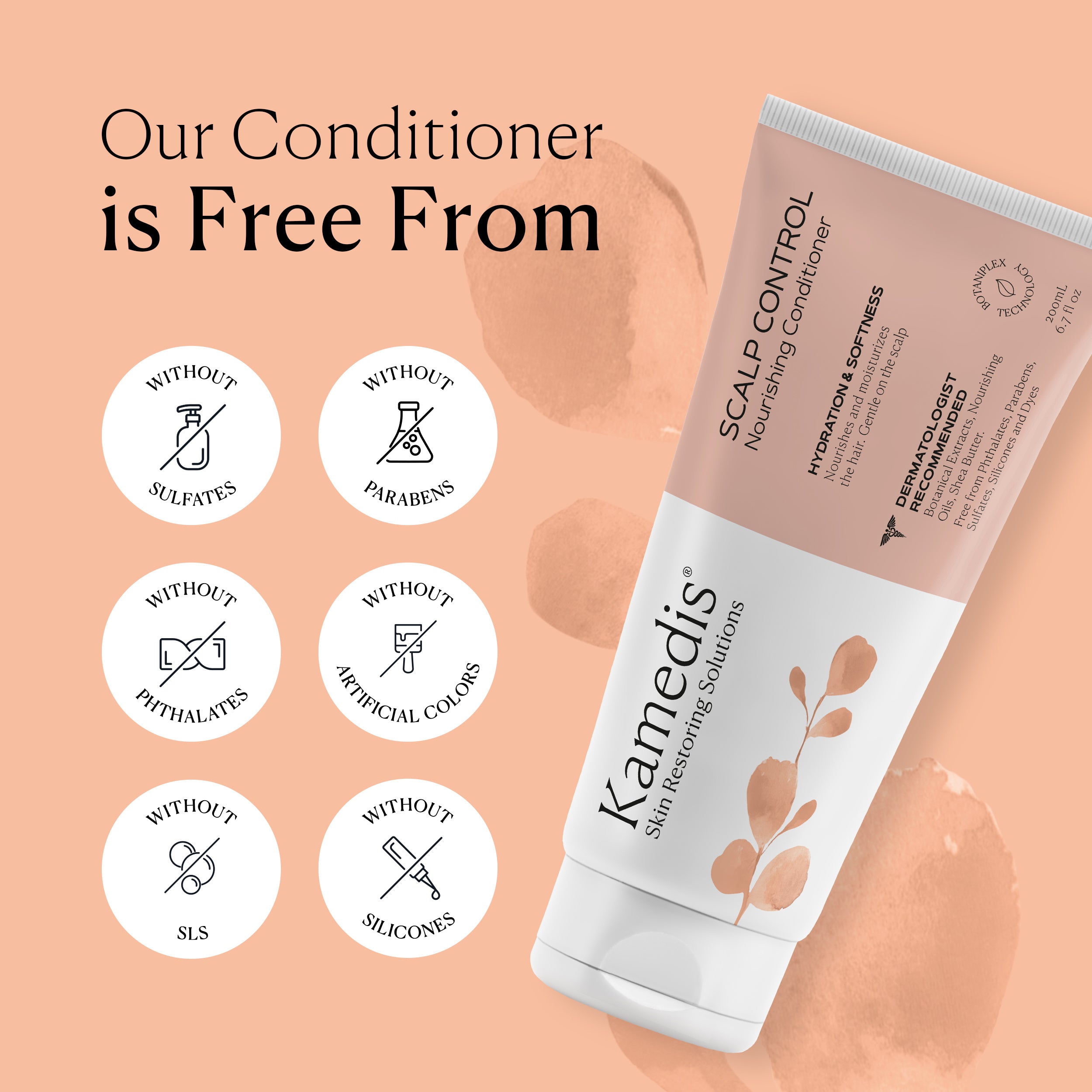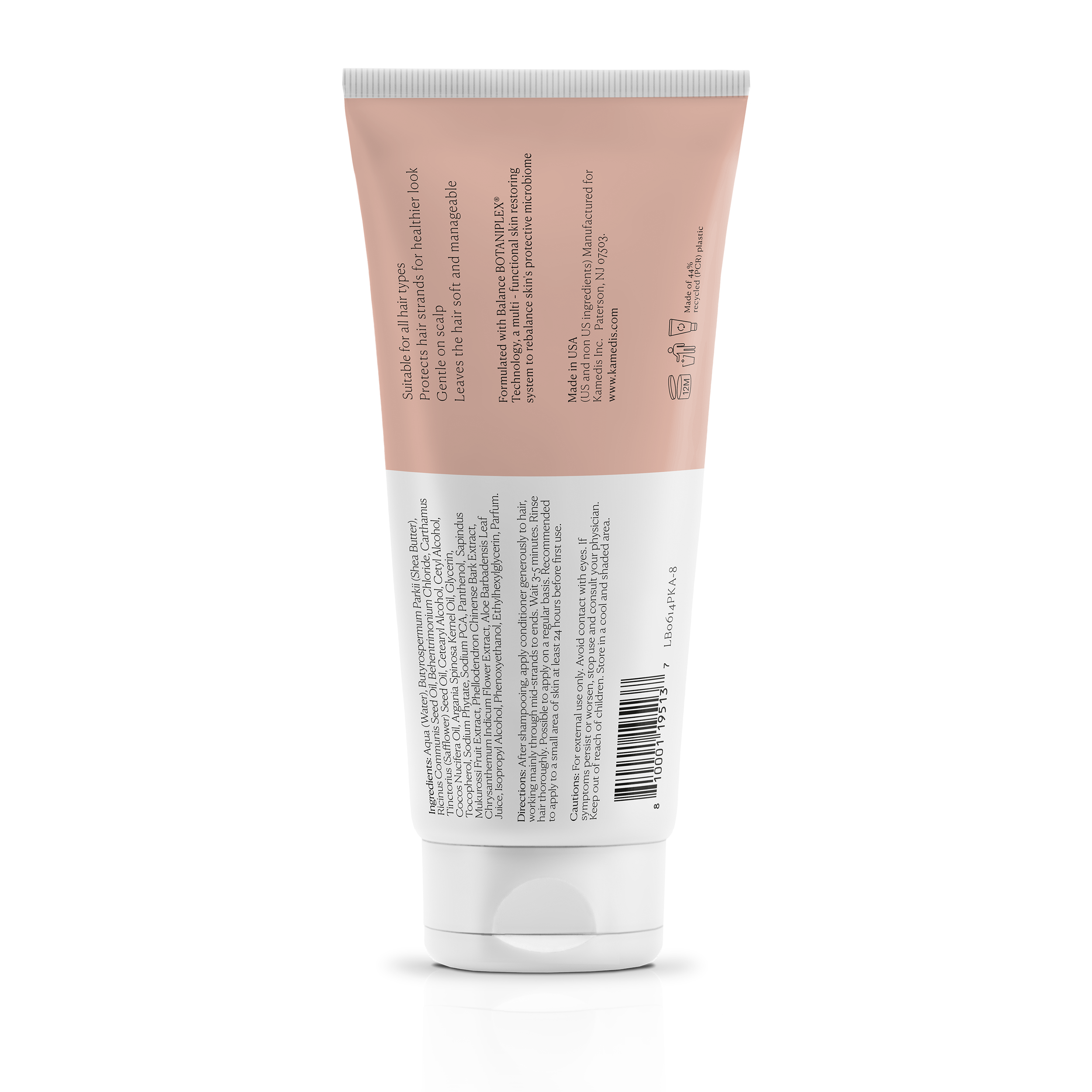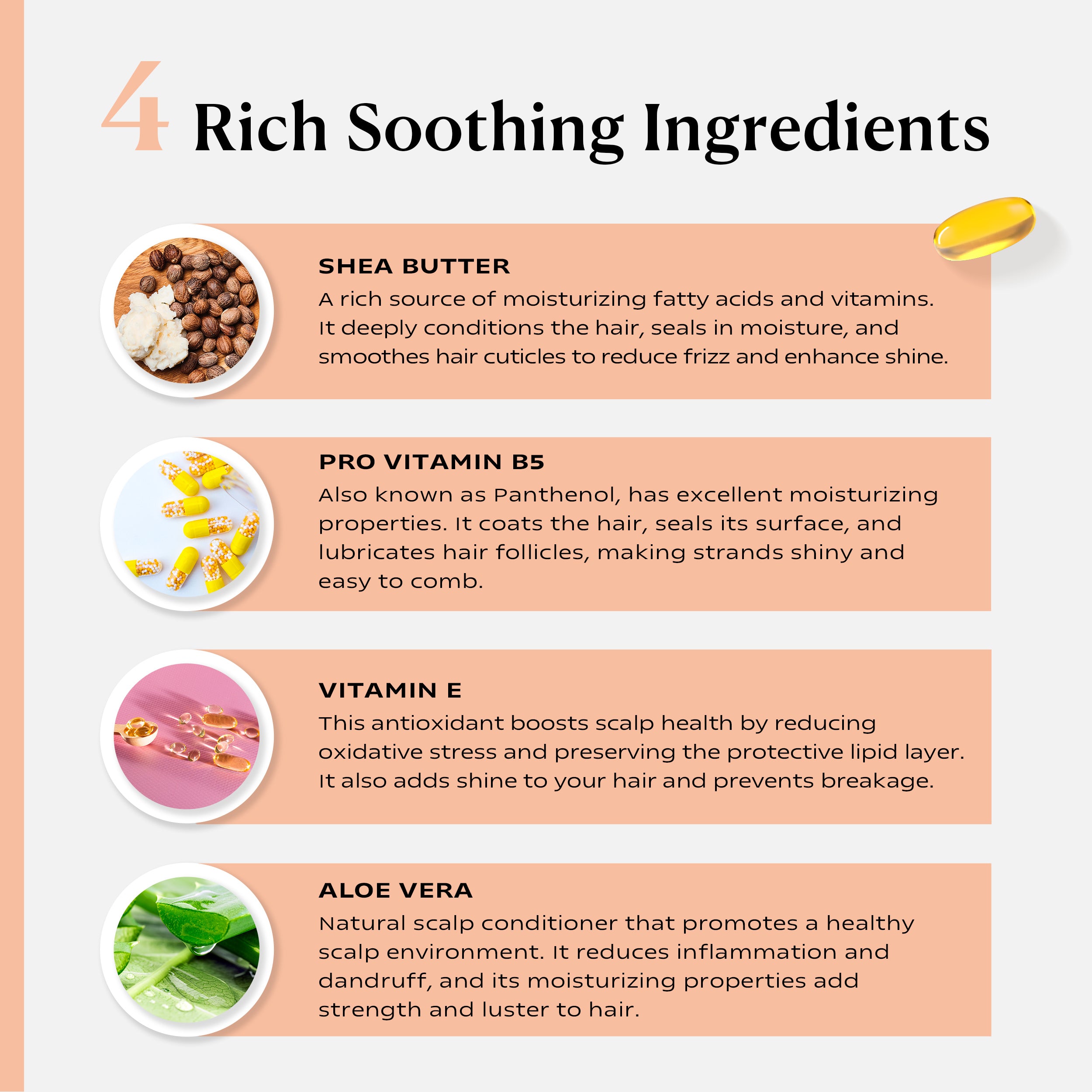 Key benefits
It's not just a conditioner, it's your hair's best partner.
Dermatologist Recommended
This product comes with the assurance of healthcare professionals. Dermatologists recommend our conditioner, so you can trust it to deliver real results.
Deep Moisturization
It moisturizes your hair deeply, making it softer, smoother, and more pleasant to touch. It ensures that your hair stays hydrated, preventing it from becoming dry or brittle.
Scalp Friendly
This conditioner doesn't just stop at the hair. It cares for your scalp, maintaining its natural pH, and balancing the scalp's microbiome. This focus on scalp care sets our conditioner apart. It is perfect for those with sensitive scalps and is even gentle enough for children.
Key Ingredients
Formulated with Botaniplex Balance SC - Phellodendron (Phellodendron Chinense Bark Extract) and Chrysanthemum (Chrysanthemum Indicum): This unique blend combines the nourishing power of botanicals, helping to balance the scalp's natural pH and microbial balance. Chrysanthemum soothes the scalp and adds shine to the hair, while Phellodendron helps to preserve the hair's natural oils, reducing frizz and increasing manageability.
Shea Butter
This natural ingredient is a rich source of moisturizing fatty acids and vitamins. It deeply conditions the hair, seals in moisture, and smoothes hair cuticles to reduce frizz and enhance shine.
Safflower
Safflower oil is excellent for improving the health and appearance of your hair. It can stimulate hair growth, strengthen hair follicles, and provide incredible shine.
Castor Oil
Known for its high ricinoleic acid content, castor oil promotes scalp health and hair growth, while also providing moisture to the hair shaft, enhancing strength and preventing breakage.
Coconut Oil
Coconut oil penetrates deep into the hair shaft, replenishing essential proteins and providing intensive hydration. This results in softer, stronger, and shinier hair.
Argan Oil
Often called 'liquid gold,' argan oil is rich in antioxidants and vitamins that promote elasticity and restore shine to dull hair. It also acts as a natural conditioner, leaving your hair soft, tangle-free, and hydrated.
Aloe Vera
Aloe Vera is a natural scalp conditioner that promotes a healthy scalp environment. It reduces inflammation and dandruff, and its moisturizing properties add strength and luster to hair.
Easy to use:
Our products work with your skin to help it heal itself. Like you, your skin is unique, and it's important you'll put the time needed to solve the problem. Please make sure you follow the instructions over time.
Step 1
After shampooing your hair, squeeze out excess water.
Step 2
Apply conditioner from roots to ends, focusing on the lengths of your hair.
Step 3
Leave the conditioner in for a few minutes, then rinse thoroughly with water.
Sensitivity test
To test for sensitivity apply on a small area of skin at least 24 hours before first use.
Tested By Professionals
"As a Naturopathic Doctor specializing in dermatology, I will always recommend my patients use products that are backed by science, safe for long-term use and have no known side effects. Kamedis products are formulated with unique botanicals and are clinically proven to improve various skin conditions. Long-term use of these products will not only rebalance the skin but also strengthen the skin barrier as well."
Dr. Michael Traub , ND
Former president of the American Association of Naturopathic Physicians
Frequently Asked Question
Most-trusted Products
We will be delighted to show you how to achieve naturally glowing and balanced scalp that is full of health and vitality